We´re back in Catalonia´s bustling capital Barcelona for a cultural visit after a long absence. It's Easter week and the city is busy, it always is.
It's nice to combine a visit with a cultural twist and this time MOCO museum has got our attention. Its original birthplace was Amsterdam and their Barcelona offspring opened last year.
Housed within an old stone building in Barcelona's Born district, the setting for a museum of contemporary art seems odd. One may be expecting sleek, white walled modernistic buildings with plenty of natural lighting but it's not the case.
The Born neighbourhood is full of narrow streets hosting bijou boutiques, funky bars and galleries. The vibe is super hipster and easy to reach if you're exploring the old quarter. Plenty of visitors pass through here as it's also home to the Picasso museum.
However, MOCO has succeeded in thoughtfully transforming this building into a suitable repository of established and upcoming modern artists. These include such illustrious names as Banksy, Basquiat, Warhol, Hirst and Kaws.
Many exhibits are on loan from private collections, the artists themselves and directly purchased by the museum itself. Starting on the ground floor the relatively small rooms are easy to transition through, adorned according to the artist featured. Once you've reached the top floor space is dedicated to immersive and digital art themes, such as NFT which is the talk of the town in tech circles.
I was taken by the huge busy canvases of Chilean painter Guillermo Lorca. Featured paintings include lifelike depictions of children so bold and bright. His animal depictions are equally captivating, colourful and thought provoking.
Each exhibit has an English, Catalan and Spanish description. I chose their online based audio tour option but found it was slow to load and respond for my device. I quickly reverted to just reading the text next to each exhibit. Erudite explanations make an interesting read, artists offer up what art and more to the point, what their art means to them.
As a slight aside, I recall watching a programme where artists gave their story behind what they've created-which I felt resonated more with me than the finished article.
As with most museums, you exit via the gift shop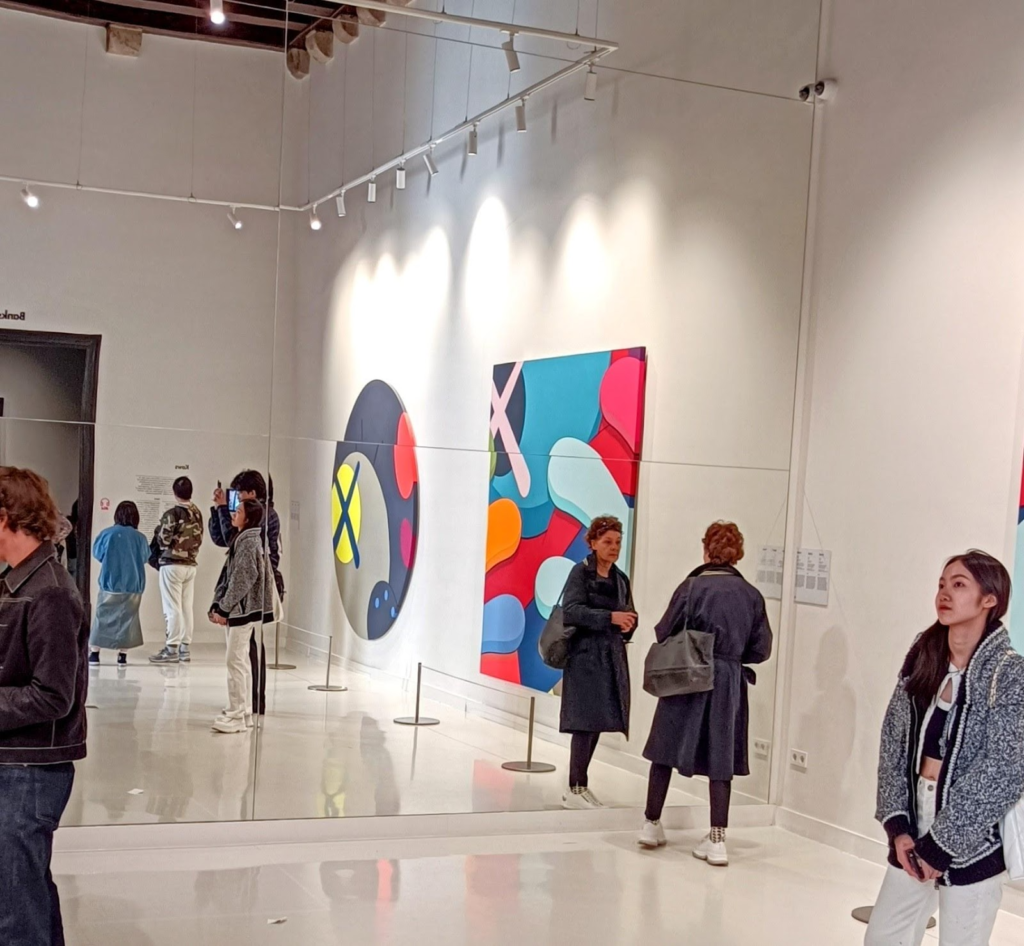 They seem to be doing a good job of promoting themselves via social media and I was able to pick up flyers at our hotel which gave a 10% discount off the normal entry price. If this art genre is up your street and can command your attention for a couple of hours, then MOCO Barcelona is a welcome breath of fresh air.